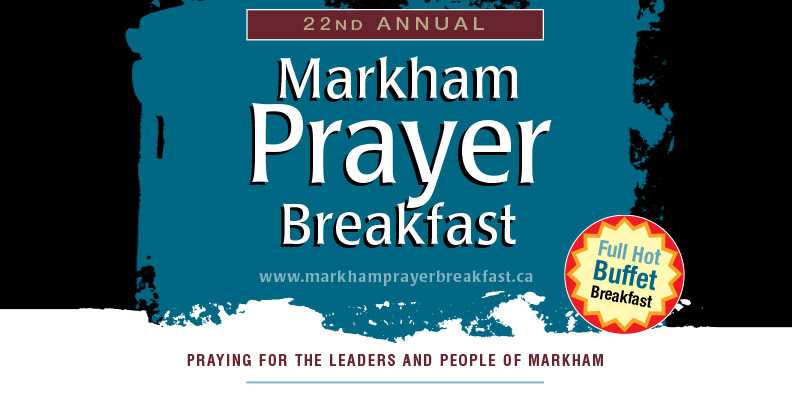 Dear Friend,
We look forward to sharing the power of prayer with you. Our faith tradition calls us to pray together and ask God to watch over our community leaders. Gathering together strengthens our relationship and community. Please join us!
At the Markham Prayer Breakfast….
Planning is Complete!They say that 'nothing worthwhile happens by chance' – that is certainly true at the Markham Prayer Breakfast as we bring together the exciting elements for our 2019 program.The speaker for the event will be Lorna Dueck who may be well known to many of you as she is the CEO of the Crossroads Global Media Group , which oversees YES TV, Tricord Media, and multiple media productions including the well loved '100 Huntley Street' .Our ministry of music will be led by Colin Ainsworth. This versatile and thrilling tenor has worked with opera companies across the world. We have had the privilege of having Colin sing at the Markham Prayer Breakfast a few years ago. He attends Unionville Alliance Church.
Tickets are now on sale and can be purchased either by contacting our ticket coordinator: Lloyd Mather email lmather@sympatico.ca or directly through our website. If you are able to join our sponsorship group this year then please contact our sponsorship coordinator Mo Coulter mo@mkccoachinggroup.ca. We appreciate all of our sponsor – sponsorship opportunities start at the $200.00 level and are open to both corporate and individual supporters. Please visit our website www.markhamprayerbreakfast.ca for news as it develops about the exciting upcoming. See you on November 29th, 2019 Markham Prayer Breakfast.